Nexus Civils to construct Schuckmannsburg

road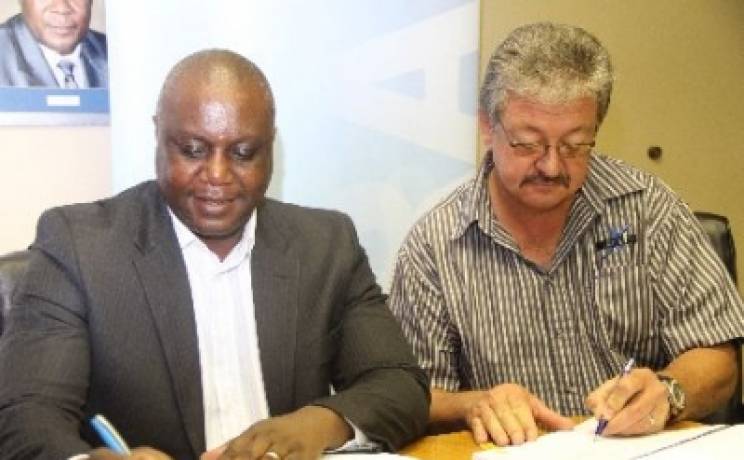 Nexus Civils to construct Schuckmannsburg road
WINDHOEK, 06 NOV (NAMPA) – The Roads Authority (RA) on Thursday awarded a tender to Nexus Civils (Pty) Limited for the construction of the Namalubi-Isize-Luhonono (Schuckmannsburg) road in the Zambezi Region.
The project will be completed at a cost of N.dollars 436 million over 30 months, as from January 2015.
Speaking at the signing ceremony here on Thursday, the RA's Chief Executive Officer Conrad Lutombi said the road will be constructed through plant based construction methods instead of labour intensive construction techniques, because the road is located in the Zambezi River flood plains and high fills of more than one metre (in most sections of the road) will be constructed.
He said the total length of the road is 57 kilometres, of which 22km from Namalubi through Kalimbeza to Isize will be surfaced to bitumen standard; the 33km from Isize to Luhonono will be a new gravel road and the two kilometres from there to the Kalimbeza Rice Farm will be surfaced.
"The Roads Authority is executing the works on behalf of the Ministry of Works and Transport, while the government will finance the project," he said.
Lutombi said the road will provide access to clinics at Luhonono and Isize; and it will also provide access to schools at Isize, Sifuha, Malindi and Luhonono.
Ten (10) small and medium-sized enterprise (SME) contractors will participate in this project in partnership with Nexus Civils, while more than 300 temporary jobs will be created for the local people.
The contracted SMEs are Oshikoto Road Services, Mbango Construction, Lirissa Investment, Dhipah Trading, Omupondo Construction, Shipiki Multi Enterprises, Flame Investment, Amakalu Construction, RN Mavenjono and Epatululo Trading.
Lutombi said the combined value of the SMEs portion of the project is estimated at N.dollars 120 million of the contract value.
The RA CEO explained that the SME contractors will be responsible for the construction of all concrete works.
Also speaking at the signing ceremony, the Director of Nexus Civils Deon Verster said his company is 100 per cent Namibian with construction experience of about 30 years.
"We have constructed a number of roads in partnership with other local companies in the country such as Karibib-Okahandja road," he said.
Verster said the company has been operating in partnership with Black Economic Empowerment (BEE) partners who have a 30 per cent stake. The BEE partners are Kelly Nghixulifwa with 26 per cent and Elia Erastus with four per cent.
The consulting Engineer for this project will be WML Consulting Engineers.
Source: lelamobile.com