KEY OPERATIONS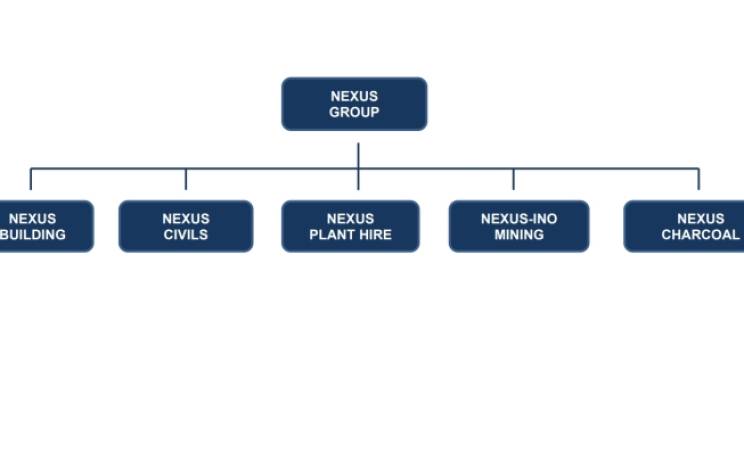 Nexus organogram
The Nexus Group comprises of five business units that operate across all geographical areas of Namibia. Although they are registered as individual operating companies geared for further expansion, these business units currently function as divisions of one large operational group.
CIVIL DIVISION
Our civil division has capabilities spanning the spectrum of national infrastructure including municipal infrastructure such as environmental rehabilitation, servicing of infrastructure, water storage reservoirs, municipal roads & storm water, as well as Transport infrastructure including roads, bridges, gravel roads, airport terminals, aprons and runways, labour based projects and railways.
BUILDING DIVISION
Our building division covers the full range of conventional construction including hospitals, airports, retail centers, residential complexes, office accommodation, educational institutions, stadiums, hotels & lodges and industrial facilities. We also undertake select residential developments for major institutions and industrial clients as well as low cost and affordable housing for the public sector.
MINING DIVISION
Nexus Ino mining possess of varies mining related equipment and specializes in surface contract mining. We provide the following services, but are not limited to load and haul, material handling, drill and blasting of rock and oversize material and bulk earthmoving. Our mining fleet are well maintained and very capable of moving major tonnages of ore bearing material or waste in any type of soil, without jeopardizing our high safety expectations. With our capable and qualified engineers and personal, combined with strong mining industry experience, we can offer the best solutions for any client in mine planning, project management and pit surveying services as well. We are proud to say that we consist of the necessary resources, knowledge, and experience to compete with any major mining contractor in Namibia.
CHARCOAL DIVISION
Nexus Charcoal's primary business involves the harvesting of wood and the production of charcoal, consisting of three product categories, namely lumpwood / barbeque charcoal for households, charcoal briquettes for households, and lumpwood charcoal for restaurants and exporting these products to international distributors and/or off-takers. Nexus Charcoal aims to build long-term relationships with its off-takers, underpinned by long-term off-take agreements. Nexus Charcoal also aims to use strategic service providers, both for ensuring and maintaining forestry regulatory and FSC compliance. The Company has joined the Namibia Charcoal Association as a member, in order to support the development of the sector and in order to operate within the industry best practices.
PLANT & EQUIPMENT
In order to maintain the high level of service and support to our stakeholders and keep up with the continuous demand for excellence, we continually invest in our plant and equipment by either upgrading and/maintaining our fleet in ensuring that we are always in a position to deliver. Through our ring-fenced business, Nexus Plant Hire, we are able to pay specific attention to our fleet through a dedicated and highly qualified maintenance team. Our plant is maintained and serviced on a continuous basis and always in a position to partake in various projects thus ensuring compliance with all safety and operating standards.
MINING AND CONSTRUCTION RELATED EQUIPTMENT
Articulated Dumper Trucks Bulldozers, Bitumen Equipment, Busses, Compactors, Excavators, Forklifts, Graders, Loaders, Telehandlers, TLB's, Haul Trailers, Haul Trucks, Tipper Trucks, Water Trucks, LVD's, Other